A bright future
Today's aviation maintenance and aerospace industry holds a wealth of opportunity for students as it is one of the fastest growing sectors in Canada and the world. Despite our relatively small economy (in global terms), the Canadian aerospace industry ranks among the top five in the world and has job opportunities that are among the most exciting, interesting, and challenging careers out there.
Careers in aviation and aerospace are not limited simply to being a pilot or a flight attendant. In fact, most jobs are in manufacturing, and in maintenance, repair and overhaul. As a member of Canada's aviation and aerospace industry, workers serve both domestic and international markets, in manufacturing or servicing, repairing, overhauling, or retrofitting many types of aircraft and their components.
The CCAA is dedicated to ensuring the Canadian aviation and aerospace industry has enough workers with the right skills to meet industry needs. The Council is also committed to ensuring that students interested in this dynamic, growing sector get access to the knowledge and training they need to succeed.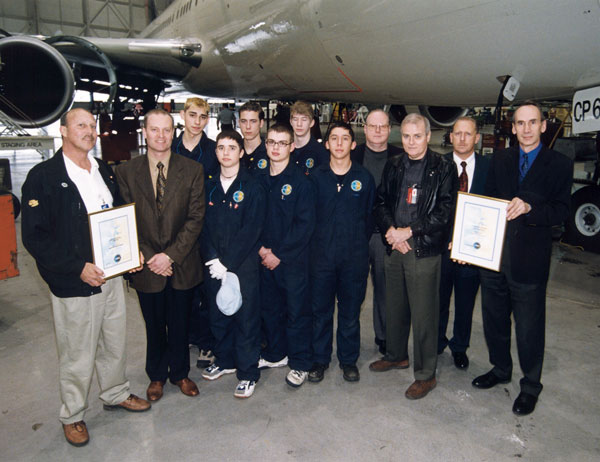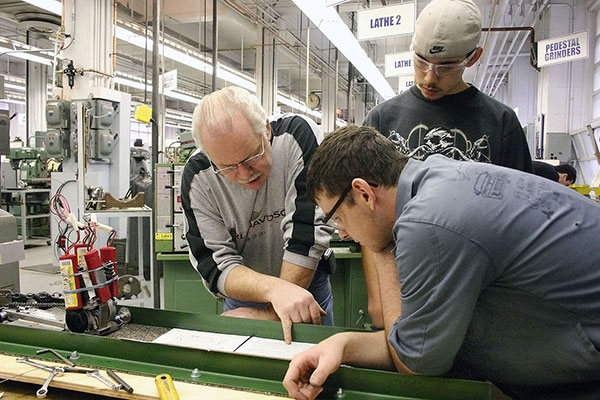 Aviation Maintenance Orientation Program (AMOP)
The Aviation and Aerospace Orientation Program (AMOP) is a high school curriculum that is offered by the CCAA in over 20 high schools across Canada. AMOP introduces high school students to the basic concepts of flight theory, avionics, aircraft structural materials, aircraft mechanics, industry standards, and has a strong emphasis on workplace safety.
The Program focuses on seven major areas and it looks at the habits found in a typical work environment: Safety, Avionics, Powerplant, Systems, Structure, Aircraft Practices and Flight Fundamentals.
The curriculum was developed in consultation with industry and includes learning outlines, sample lesson plans and practical projects that total 300 hours– allowing instructors to choose the materials most relevant for their classes. In its entirety, the program can be offered over three years with aviation related workplace components.
AMOP is the perfect starting point for your students to work toward a rewarding career in aviation and aerospace whether they want to become an aircraft maintenance technician, an aerospace engineer or even a pilot.
If you are interested in participating in or offering the Aviation and Aerospace Orientation Program or have any questions, please contact us.
The benefits of CCAA accreditation
Provides a framework to help create and implement systems and processes that improve operational effectiveness and foster positive worker attitudes
Improves communication and collaboration internally and with external stakeholders
Strengthens interdisciplinary team effectiveness
Demonstrates credibility and a commitment to quality and accountability
Identifies areas for additional funding for organizations and provides a platform for negotiating this funding
Mitigates the risk of adverse events and help decrease liability costs
Sustains improvements in quality and organizational performance
Enables on-going self-analysis of performance in relation to standards
Enables on-going self-analysis of performance in relation to standards
Ensures an acceptable level of quality among vocational training providers
Improves the organization's reputation among end-users and enhances their awareness and perception of quality training, as well as their overall satisfaction level with new hire graduates
Promotes capacity-building, professional development, and organizational learning
Codifies policies and procedures and promotes the use of ethical frameworks
Drives compliance with regulatory and industrial requirements
Decreases variances in practice among vocational trainers and employers.
Increases vocational training organizations' compliance with quality and safety
Improves a student's learning outcomes
Promotes the sharing of policies, procedures, and best practices among vocational training organizations
Promotes a quality and safety culture
Air Cadet League of Canada
The CCAA is proud of its longstanding partnership with the Air Cadet League of Canada and it's role on the League's Industry Partnership Committee. The Council works with the League to encourage young people to choose careers in aviation and aerospace by making learning tools and the industry-based Aviation and Aerospace Orientation Program available for optional training courses of the Air Cadet League of Canada. To learn more about the Air Cadet League of Canada, click here.
Get on our mailing list
Sign up to get the latest CCAA training news, insights, and more delivered directly to your mail box!